Sequential Oral Sensory (SOS)
Our feeding team is founded on the principles of the Sequential Oral Sensory (SOS) approach to feeding. They work to build comfort and tolerance by combining your child's oral motor development and respecting his or her social-emotional responses and current relationship with food. They are able to delicately harbor and highlight mealtime as a social experience and encourage interaction and opportunities for shared experiences and enjoyment related to food. Working with our experienced feeding team, your child will:
Develop awareness of visual features related to food in talking about what it looks like
Increase his or her comfort being in the same area as new or less familiar foods
Interact with food in a new way within a variety of play-based experiences
Explore how foods smell the same/different from one another
Touch food using fingers, hands, arms, head, and face before introducing taste
Taste food by licking, kissing, or holding between teeth in the mouth
Eat and enjoy new food experiences!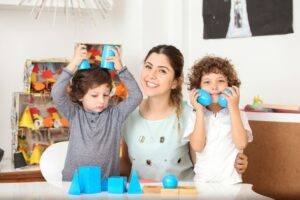 Feeding and Oral Therapy improves communication skills, social development, and self-confidence. Students at the academy are assessed for all factors contributing to feeding difficulties including motor, oral, behavioral/learning, medical, sensory, and nutritional factors. Every child is unique, so we provide a wide array of services that can be combined to help your child reach their maximum potential.